Welcome to Memento Publishing


At Memento Publishing we are inspired by art and dedicated to producing, publishing, marketing and selling books that encompass a passion for the artistic lifestyle. With a focus on body art and the tattoo culture, Memento seeks to highlight the achievements of this ever-growing genre.

We produce inspirational, educational, and informative art books with distinct designs and excellent editorial. Whether a gallery-themed edition of full-color photos; an instructionally-based tutorial; or a combination of the two, Memento can help you through the publication process.

As tattoo artists and enthusiasts ourselves, the Memento staff is passionate about instilling positive perceptions of the body art lifestyle. Great ideas begin like a seed, and sometimes need support and direction to blossom and grow. We can help you through these various stages of the process: outlining, writing, layout, proofing, printing and marketing. Bring your concept to life by submitting your book idea today. Visit the submission page to get started and watch your idea come to life.


---
Recent News
The Coloring Book Project, 2nd Edition Contest: Round 2

January 18, 2014

The Coloring Book Project, 2nd Edition is here! We'd like to give a big thank you to everyone for all of the overwhelming support. You guys rock!
We'd also like to show you all a token of our appreciation. Since the last contest was such a success, we're bringing it back! Memento presents to you The Coloring Book Project, 2nd Edition Contest: Round 2.
The rules are simple, but the rewards are huge. Its time to commandeer your niece's crayons, because you've got a contest to win!
Did we mention the top prize is a tattoo from Mike DeVries? All you need to do is purchase a copy of The Coloring Book Project, 2nd Edition (you already did that though, right?), find your favorite page inside, go to town coloring and beautifying that design into something imaginative and magnificent, and enter your finished colored page in the contest.
Please note: Some of the rules have changed from last time, so please read carefully!
PRIZES
1st Place/Grand Prize:
The first place winner receives a tattoo by Mike DeVries, paid for by us!
The tattoo must be a piece that can be completed in one day with approximately six hours of tattoo time.
The tattoo session will be held at MD Tattoo Studios just outside of Los Angeles, California.
All travel and transportation costs associated with the Grand Prize will be the sole responsibility of the winner.
2nd Place/Runner Up:
The second place winner will receive a framed original painting by Brett Herman, Tattoo Artist and curator of "The Coloring Book Project."
3rd Place:
The third place winner will receive a one of a kind enhanced signed print of The Coloring Book, 2nd Edition "Cover Art" by tattoo artist Katelyn Crane.
4th Place:
The fourth place winner will receive a copy of each book in the Memento Publishing Library including:
- Zombie Caricatures: Exaggerations and Infections
- Animal Ink
- Cranial Visions
- Tattoo Prodigies
- With the Light of Truth
- The Coloring Book Project's "First and Second Edition"
- Tattoo Extremities
- Eight Arms of Inspiration
*If the winner is under the legal age to get tattooed (18 years old in the US) they will receive a framed 16" x 20" original oil painting by Mike DeVries!
RULES & SUBMISSION
Be sure that you follow the rules, so you are not disqualified. Be aware some rules have changed since the first contest.
Use crayons, colored pencils, markers, pens, graphite, paint, etc., to color a page from The Coloring Book Project book, 2nd Edition.
You must upload a clear photograph or scan of the page you are submitting for the contest and email it to: lori@tattoostuff.com
When you email the photo or scan of the artwork, you MUST include your name, age, and contact information. Also, please provide us with the page number and which artist's work you chose to color if we cannot see that info on the photo/scan.
We will be sharing your entries on our social media channels as part of our voting system, so please include your Instagram name / Facebook link with your submission so that we may tag you.
DO NOT rip any pages out of the book. Please leave the colored artwork(s) intact inside The Coloring Book Project, 2nd Edition book. If your piece is chosen as a winner, you will be required to mail the actual book with the colored page to us, so that it can be verified that it is not a photocopy. The book will be mailed back to you as soon as we are finished with the verification process.
We are NOT accepting submissions for the "Draw Your Own Design" page like we did during the first contest. We will possibly turn that into a separate contest at a later time.
Prizes are not transferable! Getting your artist buddy to try and win you a tattoo will not count.
You are allowed to enter up to five colored pages to the contest, but it only takes one to win!
Submission deadline is May 1st.
JUDGING
Ten Finalists will be selected by Memento Publishing and posted on Memento's social media pages. The final official four winners will be determined by "Likes" on Instagram and Facebook combined on the Memento Publishing pages only, in order of votes. Each "Like" is a vote!
Winners will be announced on May 8th.
Happy Coloring and Good Luck!
Check out last year's awesome First and Second Place Winners below!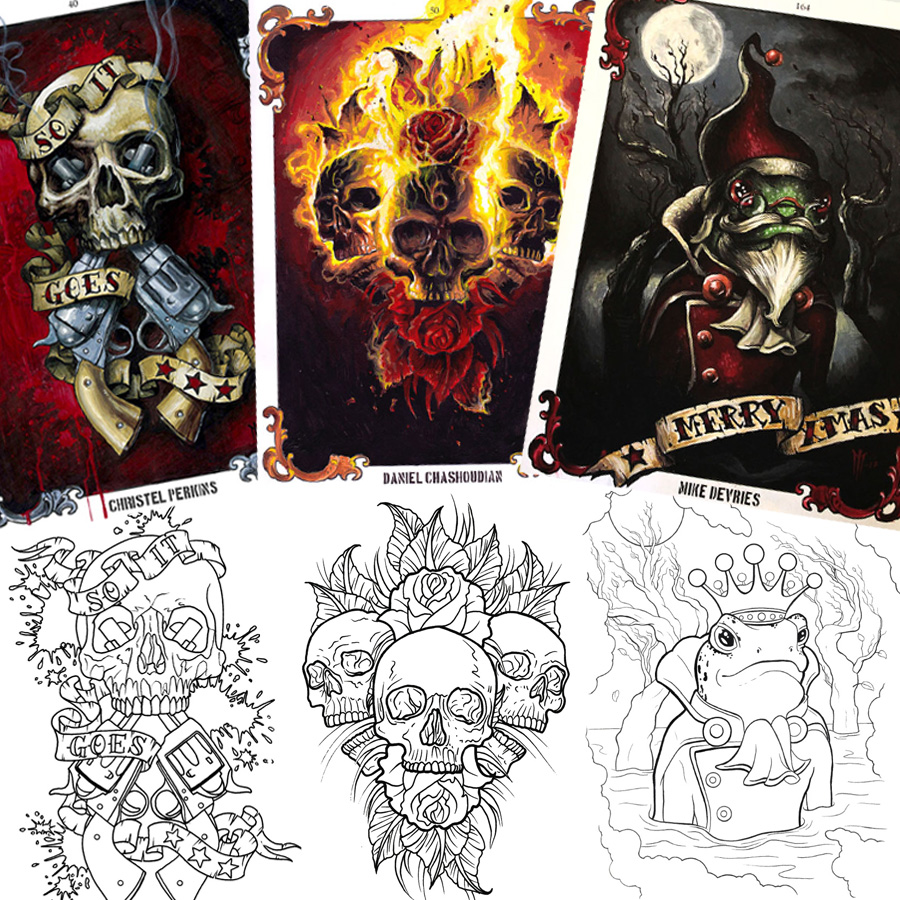 First Place was Ilari Musta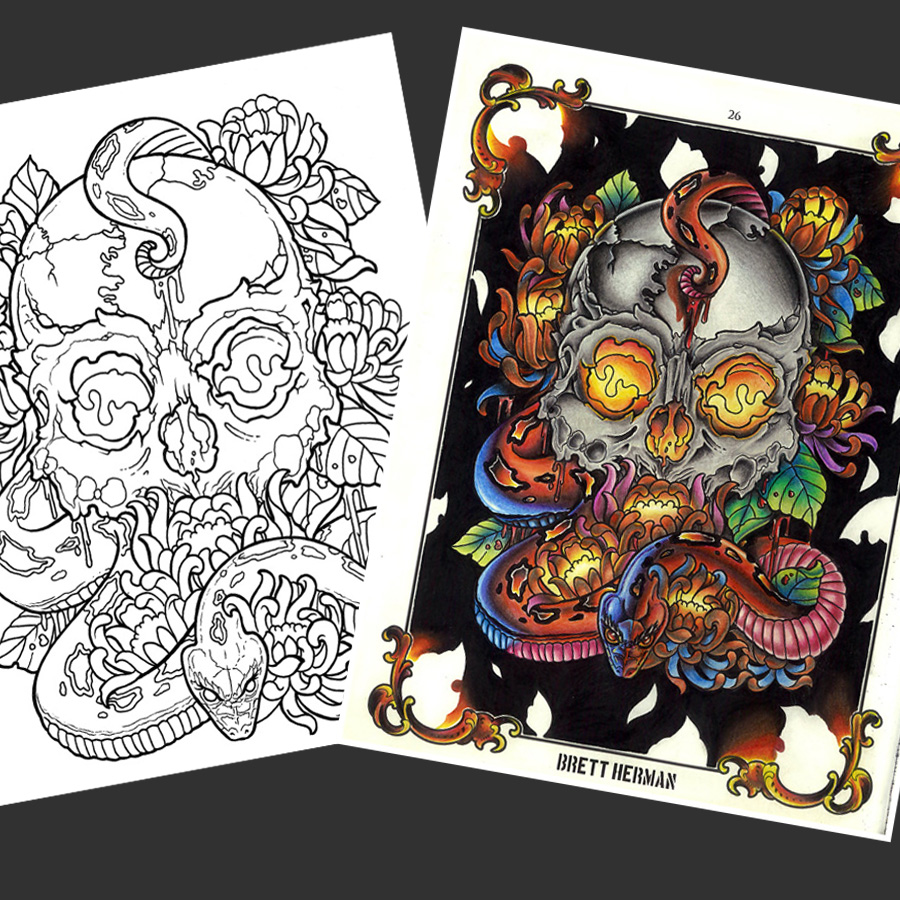 Second Place went to Jonathon Rosas
---
"Zombie Marilyn" Contest Is Here!

January 14, 2014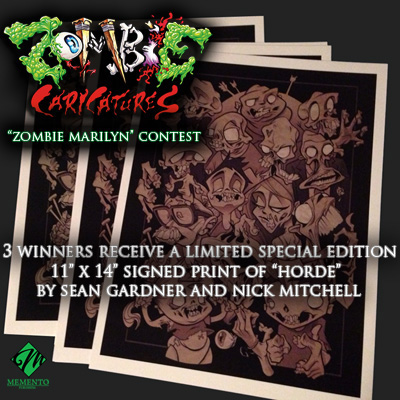 Memento Publishing is pleased to announce our newest contest, "Zombie Marilyn!"
Rules and How to Enter: Draw a zombie "Marilyn Monroe" based on the tips in the book "Zombie Caricatures: Exaggerations and Infections" by Sean Gardner and Nick Mitchell. Then, post your submission on Instagram and hashtag #mementozombiecontest and mention @mementopublishing! If you don't already have the book don't worry! The contest runs until Friday, February 7th, so there is still plenty of time to order it!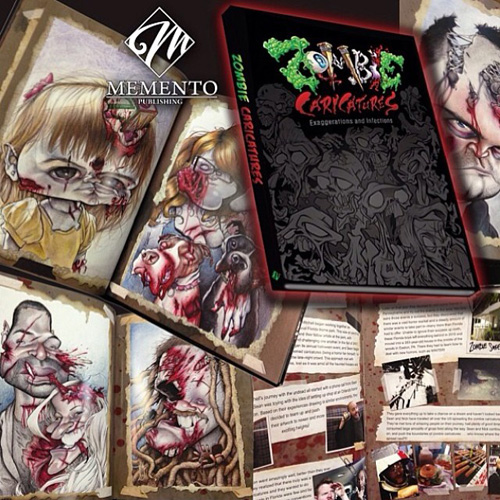 Voting: We will choose 10 finalists and then we will post their submissions on our Facebook and Instagram pages. The 3 submissions with the highest votes or "Likes" will be our winners!
Prizes: The 3 winners will each receive a Special Limited Edition print of "Horde" by Sean Gardner and Nick Mitchell. The prints have a special Sepia tint, and are on 100lb cover stock paper. The prints are also signed and numbered! You may also recognize the artwork, because it's the cover art of the Zombie Caricatures book!
So start drawing, and let's see those Zombies!
---
Two New Books Now Available! The Coloring Book Project, 2nd Edition and Zombie Caricatures

January 11, 2014

Memento Publishing is pleased to announce the addition of two new amazing books! "The Coloring Book Project, 2nd Edition" and "Zombie Caricatures: Exaggerations and Infections" Both books are Now Available!
The Coloring Book Project, 2nd Edition:
The second installment of this wonderful book brings together inspiration and cleverness from an outstanding cast of 185 artists from around the world. They have contributed their own amazing drawing, giving you the freedom to bring them to life with your own artistic vision. With 400 pages of captivating designs to color and activities to execute, artists can delve into the pages full of inspiring artwork, and break away into an imaginative world. This softcover book is 400 pages and is 8.5 x 11. That's right... "400 pages!" Published by Memento Publishing.
Click here to order your very own copy!
A portion of the contributing artists are Greg "Craola" Simkins, Jeff Ensminger, Josh Duffy, Roman Abrego, Justin Hartman, Timothy Boor, Mike DeVries, Mario Rosenau, Cory Norris, Brett Herman, Mike De Masi, Durb Morrison, Don McDonald, Jason Stephan, Sung Song, Steve Morris, Katelyn Crane, London Reese, Monte Agee, Alvin Chong, Frank La Natra, Gary Dunn, Liz Cook, Nick Mitchell, Teniele Sadd, Tim Mcevoy, Nathan Ota and many more!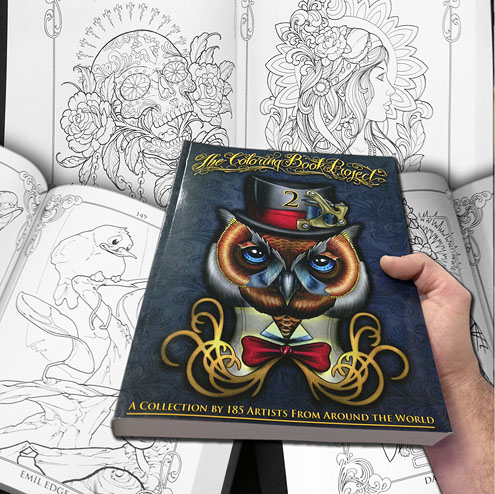 Zombie Caricatures: Exaggerations and Infections:
The content of this book showcases the work of some of the best caricature artists in the world. Sean Gardner and Nick Mitchell have managed to take something that is super difficult and make it look effortless. It takes a different type of artist to be able to pull off a great caricature. Not only do you have to capture the likeness of each victim, but you also have to figure out what it is that makes them unique and stand out in their own way. Then, you have to figure out a way to bend those unique features as far as you can without losing the essence of what makes that individual who they are.
Nick and Sean have not only managed to tweak the hell out of every person they draw and keep their likeness, but they do it while simultaneously throwing axes through their heads, lacerating their jugulars, and slinging blood all over the place. This book also includes some tutorials on how they do it! Hard Bound, 160 Full Color Pages 8.5 x 11 and published by Memento Publishing.
Click here to order your very own copy!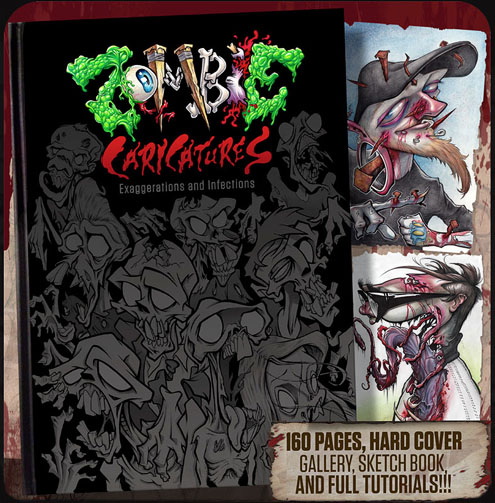 ---