Eight Arms of Inspiration is now in Stock!
3/7/13

Eight Arms of Inspiration: The Octopus Art Project
Features an extensive collection of octopus-related artwork from around the world. With a diverse array of mediums included, the octopus is interpreted in nearly 1,000 different ways by over 440 artisans of many genres and disciplines. Featured in this extensive collection are: paintings, drawings, tattoos, sculptures, sketches, photographs, graffiti art, digital art, jewelry, poetry, glasswork, cloth art, pottery, bronze work, cake art, and so much more - all centered on the octopus as the inspirational and creative focus. This collective project brings together a creative and colorful ensemble to celebrate and honor the eight-armed cephalopod with three hearts, no bones, and blue blood known as the octopus. The Eight Arms of Inspiration book is a full color, hardback, 336-page, coffee table-style book. Published by Memento Publishing and OOSBooks. Order your copy today!
We are committed to giving back to our beloved art community, a percentage of all sales from the Inspiration Art Project Series of books is donated to classrooms in need through an outstanding charity called donorschoose.org.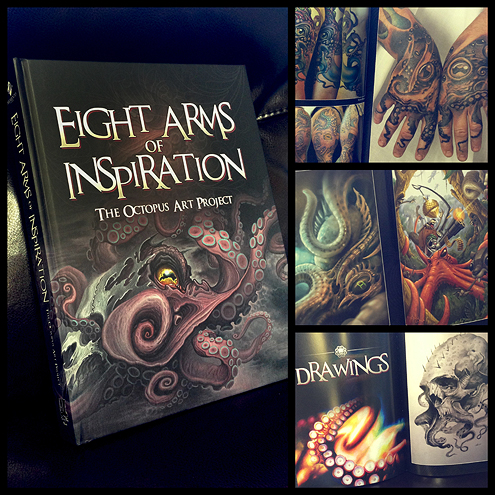 ---
Tattoo Extremities Is Now Available!
1/8/13

Tattoo Extremities: Artistic Focus on the Head, Hands, Neck and Feet
Now Available!
Tattoo Extremities is a High Quality, Hardcover, Coffee Table Book Published by Memento Publishing with 240 full color pages that is 10 inches by 10 inches in size. Tattoo Extremities Features 170 Tattoo Artists with Over 800 photos!
Only $49.99 Click Here To Order Your Copy Today
Placement of tattoo art is an important facet of each design and has the power to turn each piece into an extraordinary aesthetic experience. Throughout the years, the extremities of the body have been utilized to tell stories, depict ritualistic significance, and serve as the canvas for exhibiting grand artistic projects. Though not all tattoo collectors choose to decorate their hands, heads, and feet, many of those who do expose the world to some of the tattoo industry's finest accomplishments - proudly displaying their artwork for all to see. This book features an extensive body of tattoo work from tattooists around the globe. These talented artisans provide us with distinct styles, genres, and creativity, all inked upon the far-reaching limbs of the body. Enjoy an intriguing artistic journey that honors those bold enough to wear the ink and the artists skilled enough to make their imaginative concepts come to life.
Here is a portion of the artists that have tattoo work featured in Tattoo Extremities... Nick Baxter, Jeff Ensminger, Bob Tyrrell, Paul Booth, Guy Aitchison, Jesse Smith, Stefano Alcantara, Mike DeVries, Roman Abrego, Sean Herman, Josh Woods, Myke Chambers, Jim Sylvia, Dan Hazelton, DJ Minor, John Anderton, Jasmin Austin, Jeremy Miller, Kyle Cotterman, Timmy B, Larry Brogon, Jeremiah Barba, Ben Corn, Carson Hill, Cory Norris, Tim Kern, London Reese, Russ Abbott, Christian Perez, Uncle Allan, Sweet Laraine, Jeff Zuck, Johnny Jackson, Tutti Serra, Ron Meyers, Cory Ferguson, Andy Engel, Josh Duffy, Shawn Barber, Franco Vescovi, Carlos Rojas, James Kern, Mick Squires, Kore Flatmo, Steve Byrne, Petri Syjala, Ty McEwen, Kirk Alley, Timothy Boor, Ryan Hadley, Jess Yen, Jo Harrison, Don Mcdonald, Aaron Bell, Daniel Chashoudian, Juan Salgado, Jason Stephan, Gunnar, Dan Smith, Bugs, Jamie Parker, Brett Olsen, Steve Morris, Fabz, Marc Durrant, Byron Drechsler, Phil Robertson, and many more!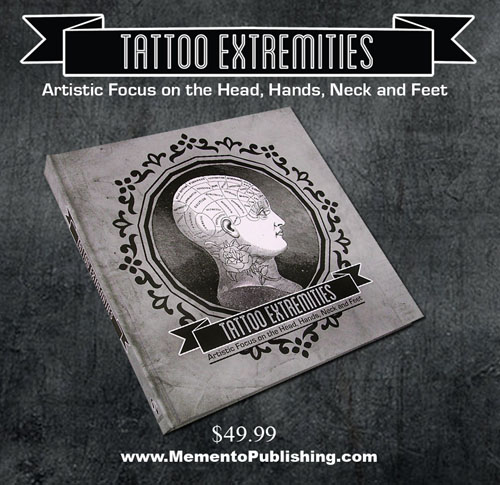 ---
Coloring Contest Winners
1/3/13

Announcing the winner for the coloring contest has come earlier than expected. We have the winners! If you have been following the art coming in on facebook, we don't think it's any surprise to who won the grand prize... Ilari Musta from Finland is the Winner! He submitted 3 entries that took first place. For 2nd place, it was a very tough call, we got a ton of great art! But we came to a final decision, and it goes to Jonathon Rosas from Colombia. Congrats Guys!
Thank you to everyone that worked so hard on this project, we hope you had a good time and had some fun with it. Now the winners need to send in their copy of the book so we can make sure they followed a couple of the rules. If for any reason one of them gets disqualified it will go to the next in line that scored the highest. We'll be posting a folder on facebook with some of the top entries. Thanks Again!
Ilari Musta's Entries... Grand Prize Winner!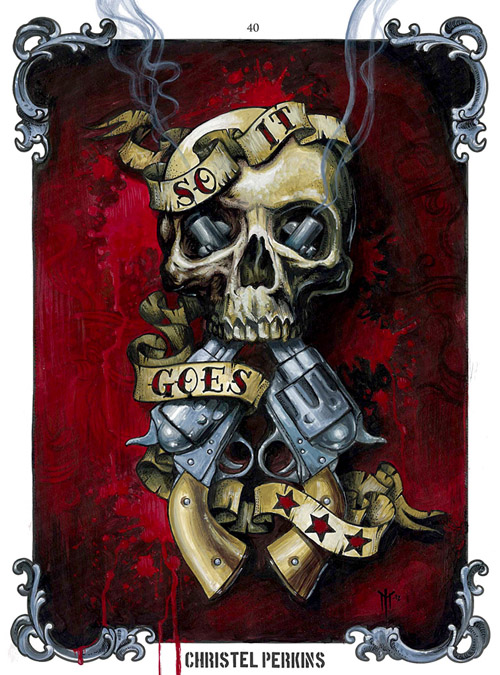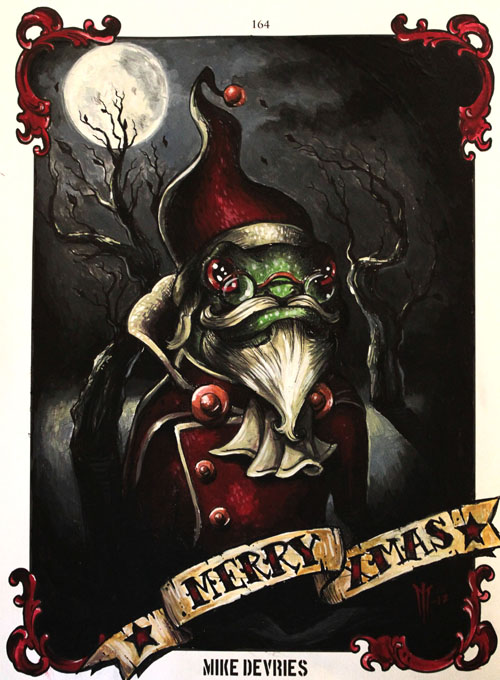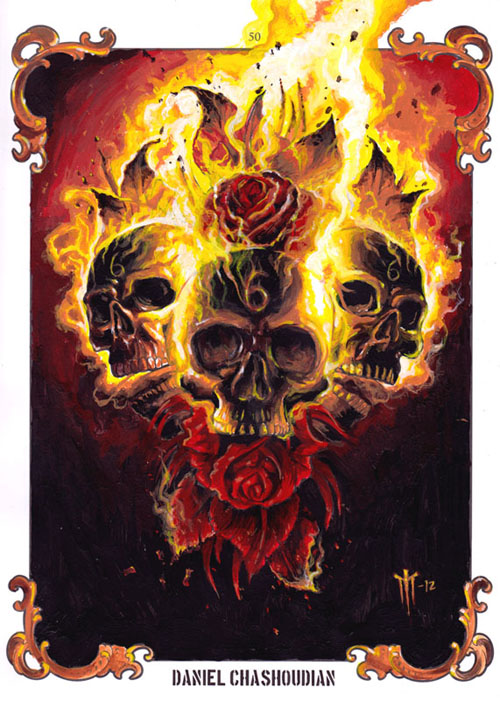 2nd Place Goes to Jonathon Rosas For This Piece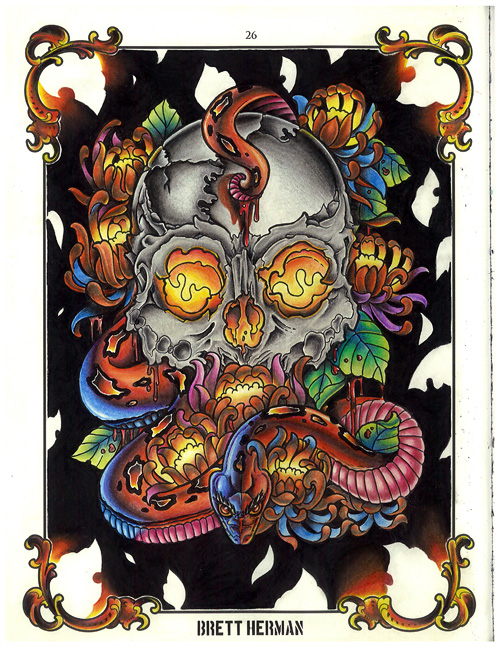 ---
The Coloring Book Project Contest
6/12/12

THE COLORING BOOK PROJECT CONTEST
We are so excited about the positive feedback rolling in about The Coloring Book Project. Because of your overwhelming support for the newest addition to the Memento library, we have decided to do something fun to celebrate. It's our token of thanks to our awesome readers and patrons, and we hope that you will get involved for a chance at some great prizes.
It's time to let your creativity soar and earn a chance at winning a tattoo-lovers dream. Crack out the crayons, markers, and artistic supplies to color up a masterpiece for The Coloring Book Project contest. The rules are simple, but the reward is huge!
Have you ever hoped to collect a beautiful piece from tattoo maestro Mike DeVries? Well now is your chance. All you need to do is purchase a copy of The Coloring Book Project, find your favorite page inside to whip up a wondrous creation, and then go to town coloring and beautifying that designated design into something imaginative and magnificent.
Enter your finished and colored page in the contest and you just might win the jackpot!
PRIZES:
1st Place/Grand Prize:
Winner receives a free tattoo by Mike DeVries!
The tattoo must be a piece that can be completed in one day; approximately six hours of tattoo time.
The winner will receive a round-trip plane ticket to Los Angeles, California; and will also receive hotel accommodations for a two-night stay in southern California, near the MD Tattoo Studio in Northridge, California.
2nd Place/Runner Up:
The second place winner will receive copies of ALL of the Memento Publishing books, including:
- Animal Ink
- Cranial Visions
- Tattoo Prodigies
- With the Light of Truth
- and an additional copy of The Coloring Book Project
***If the winner is under the legal age to get tattooed (18 years old in the US)
They will receive a framed 16" x 20" original oil painting by Mike DeVries (details to be discussed with Mike DeVries as to the focus of the painting)
and a $500 gift card to their favorite local art store.
RULES
Here are the rules; be sure that you follow them so you are not disqualified:
- Get creative!
- Utilize crayons, colored pencils, markers, pens, graphite, etc., to color a page from The Coloring Book Project book.
- Each artist needs to upload a clear photograph or scan of the page they are submitting for the contest and email it to: books@mementopublishing.com
- When you email the photo or scan of the artwork please provide your name, age and contact info.
- Do NOT rip the page out of the book, please leave colored artwork intact inside The Coloring Book Project book (if your piece is chosen as a winner, you will be required to mail the actual book with the colored page to Mike DeVries so that it can be verified that it was not a photocopy - the book will be mailed back to you as soon as it is verified).
- No photocopies allowed: submissions must be inside an original Coloring Book Project book.
-Getting your artist buddy to try and win you a tattoo will not count. Prize is not transferable!
- It only takes one to win, but each artist is allowed to enter up to 10 colored pages to the contest.
- Bonus Points: Mike is giving an extra 5 points to anyone who colors his page of artwork, which can be found on page 164 of The Coloring Book Project.
- Submissions will be posted on The Coloring Book Project Facebook page, and/or the Memento Publishing Facebook page so don't wait until the last minute to submit...send them as soon as you color them for exposure and accolades from your friends and fellow artisans.
- Submission deadline is January 1, 2013.
JUDGING
-Artwork will be judged and scored using a simple 1-100 point grading system (*high school flashbacks, anyone?).
-Judging will be done by Mike DeVries (with occasional input from a few of his artist friends if tie-breaker opinions are necessary). Mike will make the final call and announce the official winner.
-Winner will be announced on January 12, 2013.
**If your not familiar with Mikes work check out www.MDTattoos.com
---
The Coloring Book Project
4/10/12

The Coloring Book Project: A Collection by 100 Artists From Around The World
215 Pages
Softcover Book
Only $25.00 plus s&h
Artists of all ages are invited to add their own color and creativity to the pages found within The Coloring Book Project: A Collection by 100 Artists from Around the World. This wonderfully imaginative book brings together inspiration and ingenuity from an all-star cast of artists, each contributing their own enchanting sketches, and then handing them off to you to complete with your own touch of artistic magic. With 215 pages of designs to color and activities to execute, colorists can dive into the pages full of tattoo-related artwork and escape to a creative world through their pencils, markers, and crayons. The Coloring Book Project compositions are not intended as tattoo flash, but rather, pay homage to the ink industry and are perfect tools to bring out the artist in you!
A portion of the contributing artists are Don McDonald, Gunnar, Greg "Craola" Simkins, Durb Morrison, Mike DeVries, Jason Stephan, Roman, Josh Duffy, Katelyn Crane, Jeff Johnson, London, Jamie Lee Parker, Sung Song, Steve Morris, Timothy Boor, Timmy B, Whitney Lenox, Mario Rosenau, Kyle Cotterman, Ty McEwen, Danny Black, Brett Herman, Andy Engel, DJ Minor, Jeremy Miller, Julian Zeff, Shawn Williams, Hilary Jane, and many more!!
If your wondering exactly what age group this coloring book is intended for, we would say "It's PG." If your sensitive about your child coloring in artistic skull drawings, or scary faces, this might not be the right coloring book for your child. It's packed with tattoo related artwork, lots of beautiful roses, birds, anchors, snakes, geisha girls, robots, bio-mechanical designs, etc. Take a look at some of the sample pictures..Thanks and Enjoy!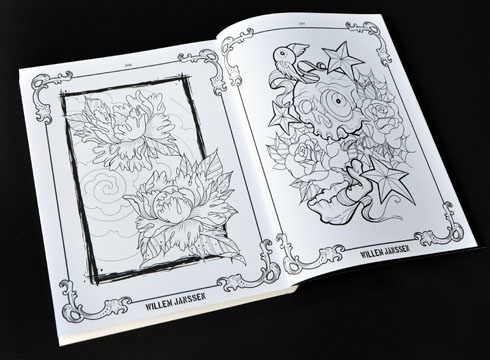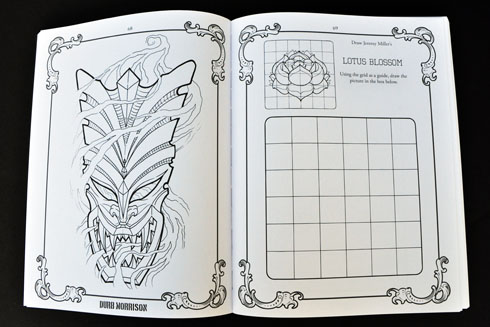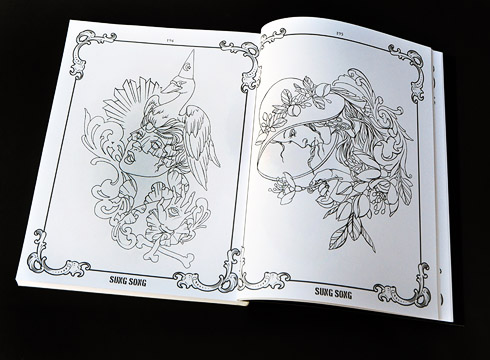 ---
Animal Ink: Exploring the World's Wildlife Through Tattoo Art
1/5/12

Mike DeVries new hardcover book, Animal Ink: Exploring the World's Wildlife Through Tattoo Art, is a feast for the eyes and is brimming with inspiration from some of the world's best tattooists. Featuring 304 full-color pages, this artistic beauty not only contains tattoo work from 160 talented tattoo artists, but in addition, includes 62 stories about specific animal tattoos with details, meanings, and inspiration from the collectors who wear the ink and the artists who inked them.
Animal designs have appeared throughout history in all facets of the art world, so it's no surprise that utilizing animals' beauty, strength, and grace has been a large focus within the genre of tattoo art. For those seeking animal tattoos, there is an endless array of styles, creativity, and artists to choose from and Animal Ink encompasses and celebrates these many different displays within its pages by featuring over 1,500 tattoos from creatures of the wild kingdom.
Whether your interest is that of a zoological focus, tattoo art, reference inspiration, or keeping up with the impressive accomplishments of tattooists around the globe, Animal Ink is an exceptional addition to any library. This high-quality 11 x 8.5" hardcover book is brought to you by Memento Publishing and features the work of an all-star list, including:
Bez, Russ Abbott, Bob Tyrrell, Steve Morris, Mike DeVries, Ryan Hadley, Roman Abrego, Uncle Allan, Juan Salgado, Bugs, Boris László, Alex De Pase, Jess Yen, Jay Wheeler, Jeff Ensminger, Andrea Afferni, Josh Duffy, Sweet Laraine, Mick Squires, Carlos Rojas, Gunnar, Andrew Sussman, Jesse Smith, Aaron Bell, Andy Engel, Larry Brogan, Jason Stephan, Nick Baxter, Canman, Steve Wimmer, Adrian Edek, Aric Taylor, Big Gus, Arturo Ostrowski, Brandon Bond, Chris Reed, Colin Dale, David Glantz, Brady Willmott, Eva Huber, Destroy Troy, Jeff Johnson, Jeff Croci, Jee Sayalero, Aleks Punk, David Bennett, Florian Karg, Deano Cook, Andy Barrett, Brian Abbott, Katelyn Crane, Jason Vaughn, Johnny Jackson, Indio Reyes, Dj Minor, Jay Quarles, Jo Harrison, Kirk Alley, Mason Williams, Mike Ledger, Kurt Fagerland, Oddyboy, Ron Meyers, Jasmin Austin, Short, Roman Kuznetcov, Otto, Roman Warnick, Phil Robertson, Stefano Alcantara, Melissa Fusco, Leigh Oldcorn, Marvin Silva, Ron Russo, Matthew Hockaday, Sean Herman, Billy Beans, Bird, Caroline Hedgepeth, Clay Fraser, Dennis Curnette, Jason Adkins, Cory Ferguson, Jeremiah Barba, Joe Waulken, Khan, Marc Durrant, Daniel Cashoudian, Matt Dunlap, Sven Gnida, Tony Mancia, Mark Weiland, Phil Kefford, Phil Watkins, Marcelo Mordenti, Josh Bodwell, Loic Lavenu, Ben Corn, Brenda Flatmo, Calle, Petri Syrjälä, Christian Perez, David Bruehl, Tim McEvoy, Jonathan Montalvo, Jamie Lee Parker, Demon, Holly Azzara, Jason Morrow, Dave Wah, Timothy Boor, Fabian De Gaillande, James Kern, Dave Tedder, George Bardadim, Scott Olive, Paris Pierides, Vyacheslav Sazanov, Eric Kueh, Jeff Zuck, Kazimierz KOSA Rychlikowski, Pepa Heller, Vince Villalvazo, Zack Spurlock, Phillip Spearman, Rachel Gilbert, Dmitriy Samohin, Frank La Natra, Tim Senecal, Justin Page, Myke Chambers, Fabrizio Divari, John Lloyd, Matthew Amey, Tim Pangburn, Dave Barton, Daksi, Deno, Iban, Endre Szabo, Jeremy Miller, Nicklas Westin, Jose Perez Jr, Oleg Turyanskiy, Jim Sylvia, Tutti Serra, Timmy B, Reed Leslie, Thiago Padovani, Scott Kelly, Ignacio Sweeney, Hayley Lakeman, Dan Smith, London, Matteo, Cascetti, Kyle Cotterman, Ty McEwen.
Click Here To Order Your Copy Today!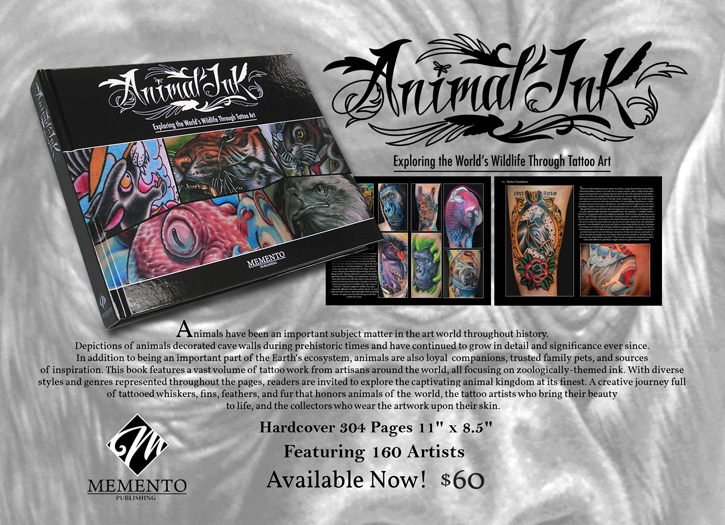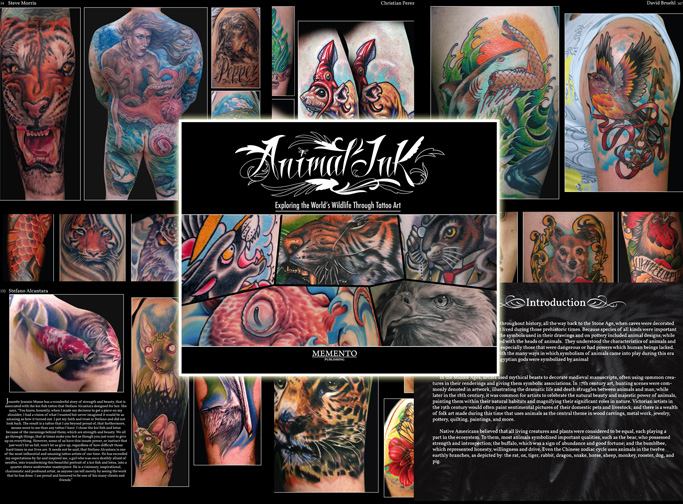 ---
With The Light Of Truth
9/26/11

With The Light Of Truth...Straight Edge. 13"X9" 256 Pages, Hard Cover Book, gold foil embossing on black saifu cloth, gold gilded edges, black ribbon book mark... A Collection of Tattoos, Art, and Profiles of Some of the Best Straight Edge Tattoo Artists in the World. Now taking Pre orders...Will ship out October 20 2011 Published by Memento Publishing. For ordering click the link to www.mdtattoos.com store. Only $50.00

---
Cranial Visions SoftCover Edition
7/27/11

We are excited to announce that Cranial Visions: Exploring The Skull Through Artistic Interpretation, is now also available in a Softcover Edition!

Cranial Visions is a high quality, coffee table book published by Memento Publishing that is 8 inches wide by 12 inches tall, all 240 pages are printed in full color, featuring 258 artists with over 800 photos!!! Buy Now

The fascinating and grim history of the skull has been a forceful subject matter throughout the ages. Maintaining prominence in the scientific and medical fields, it is also commonly interpreted through artistic endeavors, tracing back as far as creative collections have been recorded. This book features an immense volume of work which highlights the skull in all sorts of mediums, bringing together artists and works from all walks of life. Readers are invited to explore the fascinating and macabre world of the cranium-cetered theme. A spellbinding journey told through chromatically brilliant photos and words; this book is sure to awaken the mind and senses...

Chapters Include: Tattoos, Paintings, Sketches & Drawings, Mixed Media, Digital Art, Graffiti, Photography, and Skullptures...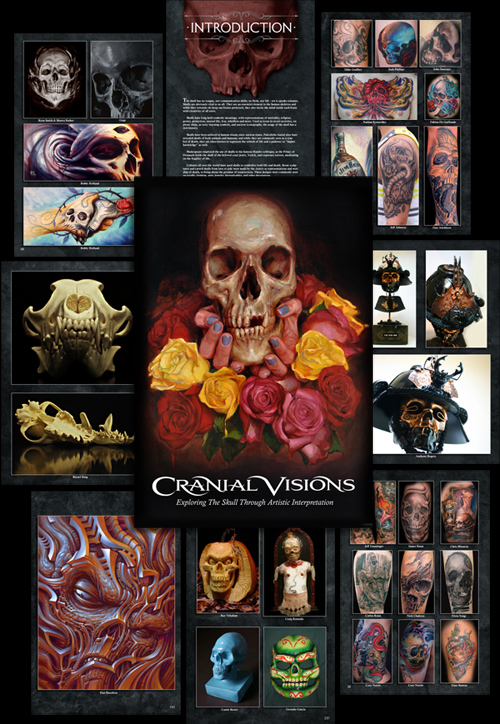 ---
Animal Ink "Coming Soon"
6/22/11

Animal Ink: Exploring the World's Wildlife Through Tattoo Art. Animal Ink is now in the design stage and it's looking great! We are excited to share it with the world. Thank You again to all the participating artists. Release date will be towards the end of September 2011.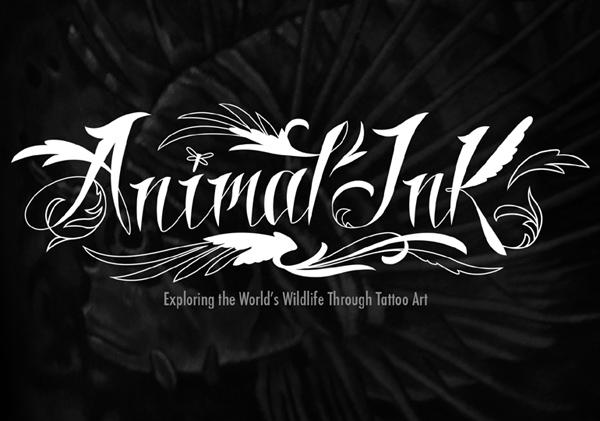 ---
Two New Book Projects in the works! Animal Ink and Tattoo Extremities
2/6/11

Dear Tattoo Artists,

Thanks for visiting the Memento Publishing. Mike DeVries and Jinxi Caddel here. Hope you are doing great!

This post is to let you know about two new book projects that Memento Publishing is working on...and we need your help and submissions to make it outstanding!

These new endeavors seek to further delve into the exquisite and acclaimed work of tattooists from around the world, with two areas of concentration.

1) Tattoo Extremities: Artistic Focus on the Head, Hands, and Feet

This book will focus on three specific tattoo art placements:

- Head
- Hands
- Feet

The project will include finished tattoo work that was completed on the aforementioned areas of the body and we are searching for beautiful photos to include in the book. We are looking for all different types of tattoo styles; in both color, or black and grey. No limitations, except for the location on the body. Submissions can be previously finished work or may include something specifically designed for this project.

- Head work can include neck tattoos if they are connected to the head design.
- Hand tattoos can include finger and knuckle tattoos.
- Tattoos on the feet can include ankle or toe work if the tattoo connects to the foot design.

The book will be approximately 240 pages in length, and be a hard-bound, high-quality, internationally-distributed, coffee table book.


2) Animal Ink: Exploring the World's Wildlife Through Tattoo Art

This book will focus on animals in various forms, including: mammals, fish, reptiles, insects, amphibians, and birds.

We are looking for all types of animals from wild to domestic/pets (dogs, cats, birds, horses, etc.), sea creatures, farm animals, etc.

We are seeking completed tattoo accomplishments in many genres, such as: realistic, traditional, cartoon-style (New School), Japanese, bio-mech, abstract, full-color, black and grey, etc.


In Regards to Both Book Projects:

**Please note that NOT all images submitted will be used. We will be "collecting and selecting," so submitting does not guarantee a spot in the book - but the only way to be considered is to send us what you've got. Present as many photos as you'd like. Each artist will be given credit in the published book with either their name near the picture or in the index.

**We would love to give every participant a free copy of the book, but due to the volume of submissions, we cannot guarantee this. After all of the images have been received, Mike and I will sit down and choose the top 30 artists (for each book) who will receive a free copy. This is in no way intended to be perceived as a contest and we wish there was a way to accommodate everyone. Many important factors will be reviewed during the book selection process, including: sending photos in a timely fashion, inclusion of accompanying release form, outstanding art, variety of images sent, etc.


Images can be submitted via email to:

books@jinxiboo.com

Or to send a disc through snail mail, please address to:

Memento Publishing
c/o Jinxi Caddel
12672 Limonite Avenue, Suite 3E #260
Corona, CA 92880

Please send high quality/high resolution images only.

Be sure to include the following information with your submission:

-Artist who completed the work
- Release Form - please print out, sign, and mail to Corona address c/o Jinxi Caddel listed directly above

*Link to download Release Form:
http://www.jinxiboo.com/forms/

**Submissions must be received by March 31, 2011.
---
Cranial Visions is Now In Stock!
12/5/10

It's finally here! Cranial Visions has made it through shipping and is now ready for your coffee table, or reference shelf! Thank you again to all of the artists who have participated. Cranial Visions is 8 inches wide by 12 inches tall, hard bound, 240 full color pages, with 258 artists involved. Over 800 skull photos! Chapters include: Tattoos, Paintings, Drawings & Sketches, Photography, Digital, Mixed Media & Graffiti, and last but not least... Skullptures. It's already selling quickly. Pick up a copy for the art and skull admirer in your life for the Holidays! Check with your supplier to see if they carry Cranial Visions, also available on www.mdtattoos.com
---
Cranial Visions is finally finished.
11/9/10

Cranial Visions is finally finished. We have recently received a few advanced copies, and we are nothing short of excited. We appreciate every artist who has participated and while we wish we could give everyone a copy as a token of our appreciation, it's just not possible to give over 250 artists a copy. In no way a competition, we decided at the beginning of this whole process, that we would give a book to 50 artists that have helped us the most, whether it was that they sent a lot of images for us to work with or that they responded the fastest. There were a lot of artists that submitted pieces that jumped out to us, pieces that we knew would help shape what we were trying to communicate in this book. Because there were so many great works of art submitted, we felt like we needed to add more artists to the list to receive a free book. Here is the names of the 60 artists that will receive their copy from us. For the rest of the artists, we appreciate everything you have submitted and thanks again for your participation. Cranial Visions will be for sale November 26th, just right around the corner!

Jeff Gogue, Shawn Barber, Nick Baxter, Alex Grey, Paolo Acuna, Dave Nestler, Cam De Leon, Jesse Smith, Bob Tyrell, Aaron Cain, Nikko Hurtado, Josh Winton, Victor Portugal, Simon Hayag, Alex De Pase, Nick Chaboya, Bez, Volko Merschky, Jeremiah Barba, Jeff Ensminger, Ryan Smith, Julius Motal, Sean Herman, Durb Morrison, Tom Strom, Jeffrey Srsic, Benjamin Moss, Carlos Rojas, Bobby Hollond, Mike Chambers, Roman, Chris Dingwell, Juan Salgado, Carlos Torres, Chet Zar, Elvin Youg, Thomas Kynst, Guy Aitchison, Don Mcdonald, Ryan Hadley, Josh Duffy, Aaron Bell, Ray Villafane, Peter Forystek, Nathan Kostechko, Mario Rosenau, Dan Hazelton, Joey "skullmaster" Williams, Cory Norris, Sven Gnida, Craig Driscoll, Christian Perez, Kore Flatmo, Mick Squires, Jodi Fry, Jason Vogt, Bugs, Kari Barba, Spiro Kambitsis, Tim McEvoy and Will Gonzalez.
---
Cranial Visions
10/8/10

 Cranial Visions is on it's way, it's in the process of being made and should be arriving sometime in December, we'll keep you informed on the exact date it should be here. Final count, there are 258 artists in this book with over 800 photos for serious inspiration and eye candy that has to do with Skull related artwork. Chapters include; Tattoos, Paintings, Sketches & Drawings, Mixed Media, Digital Art, Graffiti, Photography, and Skullptures. There is a huge Photography section that includes photos by Mike DeVries that can be used for reference for your next skull project, all other artwork in this book is not to be duplicated but is meant to inspire and give ideas to the artists. We are looking forward to sharing this new book of skulls with everyone!
---
Cranial Visions
7/20/10

So the design stage of the new Cranial Visions is underway. After 3 different deadlines, we have finally made this last one the final date. We are no longer accepting submissions but greatly appreciate everyones interest in this project. Thank you to all the artists who have sent their art in! These creations have blown our mind, we've been able to witness the inspiration that skulls have given artists of all kinds. Although there is no set date yet on its release, we are hoping to get it out to the public by the end of the year. The variables in the design of the book are constantly changing, so we wont be able to answer any questions, yet, to whether any specific design has made the final print. As soon as pre orders are available there will be a notification on Mementos' website and MDTattoos.com. We are very excited to see how things turn out for this book, and are very confident it will do every piece involved justice.
---
Attention all Artists!
12/11/09

Mike DeVries, Jeff Johnson, and Memento Publishing are in the works of a new project they are very excited about! The project is called "Cranial Visions: Exploring the Skull Through Artistic Interpretation". This project is a massive book based on skull related artwork. The artwork can consist of any medium you'd like (a painting, tattoo, sculpture, drawing, digital, etc.), and can be existing or new artwork, all we need is the photo of the piece, no need to send in original art! Not all images will be used, we will select the best out of all submissions we get.. Our goal is to acquire 3000 of the best images of skull related artwork we can for the book. The book will be a 300 page, hard bound, high quality, internationally distributed coffee table book.

We would love to give everyone a free copy that participates, but due to the volume of submissions we cannot guarantee every artist will receive a free book. However, after all the images have been received Mike and I will sit down and pick who we feel the top 50 artists are, and they will receive a free book. This is not a contest, but a cool way to give away some free books.

You can submit as many images as you'd like to. Images can be submitted via email to cranialvisions@gmail.com or sent on disc to...

Attn: Jeff Johnson MD Tattoo Studio 9545 Reseda Blvd. #2 Northridge Ca. 91324

Please send high quality/high resolution images only. Please include the following information with your submission- size of piece, and media used to create the artwork. Image files must be received by June 15  2010. Our vision is to produce a book that can truly be appreciated by anyone, focusing on the skull, an object that has intrigued and inspired artists through the ages. We are also looking for artists from all walks of life so if you know anyone you think would be interested please pass this information along. We would be honored to have you on board for this project. Hope to hear from you soon.

Here is a brief list of contributing artists that have confirmed to be involved-

Guy Aitchison, Nick Baxter,Shawn Barber, Bob Tyrrell, Bugs, Aaron Cain, Cory Kruger, Durb Morrison, Kore Flatmo, Kari Barba, Cam De Leon, Roman Abrego, Jon Clue, Jesse Smith, Nathan Kostechko, Craig Driscoll, Chris Blinston, Corey Miller, Steve Morris, Juan Salgado, Alex De Pase, Mike DeVries, Kyle Cotterman, Damon Conklin, Carlos Rojas, Jon Montgomery, Josh Duffy, Dee Dee Seruga, Jeff Ensminger, Bez, Mike Chambers, Sean Herman, Sean Zee, Jeff Johnson, Tom Strom, Nate Beavers and many more!

www.mementopublishing.com
---